Atrocity Alert is a weekly publication by the Global Centre for the Responsibility to Protect highlighting situations where populations are at risk of, or are enduring, mass atrocity crimes.
DEVASTATING EFFECTS OF SYRIA EARTHQUAKE EXACERBATED BY LEGACY OF ATROCITIES
A 7.8 magnitude earthquake and its aftershocks struck southeastern Türkiye and northern Syria on 6 February, causing massive devastation to a region already desolated by nearly twelve years of conflict and atrocities. The death toll has surpassed 35,000 while the search for survivors continues. On 14 February the UN Office for the Coordination of Humanitarian Affairs (OCHA) reported that 8.8 million people in Syria have been affected by the earthquake.
On 13 February Syrian President Bashar al-Assad announced the decision to open two additional crossing points into northwest Syria from Türkiye at Bab Al-Salam and Al Ra'ee for an initial period of three months to allow for aid delivery to the millions affected by the earthquake. Before this announcement, humanitarian aid was being funneled through a sole international crossing from Türkiye at Bab al-Hawa into northwest Syria. The crossing at Bab al-Hawa is authorized through a mandate of the UN Security Council (UNSC), most recently renewed in early January. The UNSC first authorized cross-border deliveries in 2014, creating four points through which humanitarian aid could be delivered by road from Türkiye, Iraq and Jordan. These operations are critical for addressing the scope of humanitarian needs in Syria, including the millions of people living in areas outside government control. However, Russia – a close ally of the Syrian government – and China have routinely insisted that aid should instead be delivered across domestic frontlines from government-held areas to areas outside government control. In 2020 the UNSC reduced the number of border crossings from four to one due to pressure from Russia and several joint vetoes with China.
Weiterlesen: Atrocity Alert No. 335: Syria, Haiti and Eritrea
Veröffentlicht: Freitag, 04. November 2022
Geschrieben von Martin Plaut
DRAFT AGREEMENT FOR LASTING PEACE THROUGH A PERMANENT CESSATION OF HOSTILITIES
BETWEEN
THE GOVERNMENT OF THE FEDERAL DEMOCRATIC REPUBLIC OF
ETHIOPIA AND THE TIGRAY PEOPLE'S LIBERATION FRONT (TPLF)

Weiterlesen: Text of today's peace agreement between the Ethiopian government and Tigray administration signed...
Veröffentlicht: Sonntag, 30. Oktober 2022
Geschrieben von Martin Plaut
The battle of 1896
It is not hard to see why the battle of Adwa on 1 March 1896 between the Ethiopian Empire and the Kingdom of Italy is held in such regard. With the battle of Isandlwana in January 1879, when the Zulu army attacked and annihilated a British army, killing 800 British soldiers and taking nearly 1,000 rifles and ammunition, it is a rare example of an African army defeating a European power.
Veröffentlicht: Sonntag, 30. Oktober 2022
Geschrieben von Greg Blake
Italian General Oreste Baratieri knew he was outnumbered. But he seriously
underestimated his Ethiopian opponents--and overestimated the merits of his own battle
plan.
by Greg Blake
Of all the African powers, only the ancient kingdom of Ethiopia remained completely
free from European domination by the end of the 19th century. This was no accident of
history; Ethiopia secured its sovereignty by inflicting a decisive and humiliating defeat
upon the Italian invaders at Adowa (or Adwa) on March 1, 1896. The battle at Adowa
was, at the time, the greatest defeat inflicted upon a European army by an African army
since the time of Hannibal, and its consequences were felt well into the 20th century. As
an example of colonial warfare on an epic scale, it cannot be surpassed. As an example of
the twin follies of arrogance and underestimation of one's enemies, it should never be
forgotten.
Veröffentlicht: Freitag, 14. Oktober 2022
Geschrieben von https://www.bverwg.de/pm/2022/62
Pressemitteilung Nr. 62/2022 vom 11.10.2022
Unzumutbarkeit der Passbeschaffung bei Erfordernis einer "Reueerklärung"
Einem subsidiär schutzberechtigten Ausländer darf die Ausstellung eines Reiseausweises für Ausländer nicht mit der Begründung verweigert werden, er könne einen Pass seines Herkunftsstaates auf zumutbare Weise erlangen, wenn der Herkunftsstaat die Ausstellung eines Passes an die Unterzeichnung einer "Reueerklärung" knüpft, die mit der Selbstbezichtigung einer Straftat verbunden ist, und der Ausländer plausibel darlegt, dass er die Erklärung nicht abgeben will. Das hat das Bundesverwaltungsgericht in Leipzig heute entschieden.
Weiterlesen: Unzumutbarkeit der Passbeschaffung bei Erfordernis einer "Reueerklärung"
Veröffentlicht: Freitag, 14. Oktober 2022
Geschrieben von Teklemariam Bekit & Farouk Chothia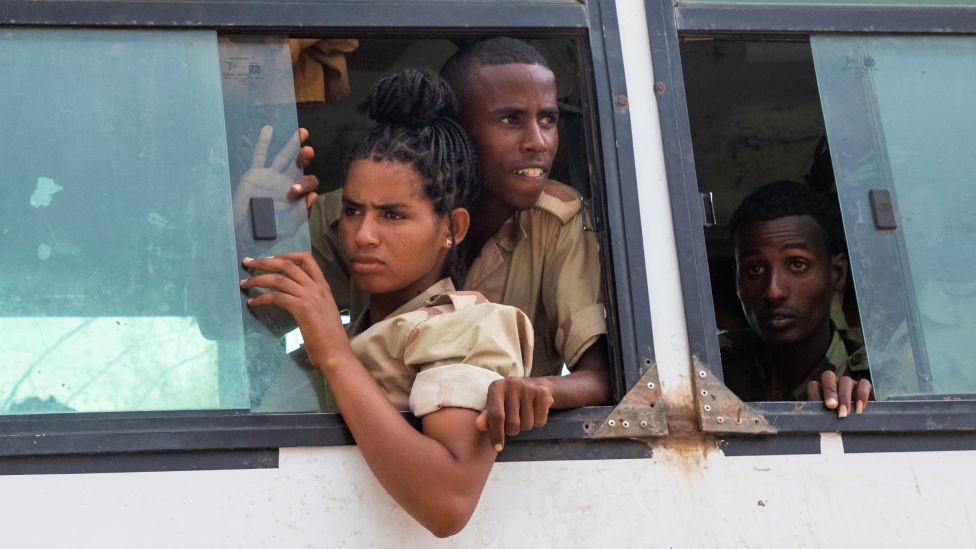 Eritrean authorities have intensified military mobilisation and are hunting down draft dodgers across the country, as the war in neighbouring Ethiopia escalates, multiple Eritrean sources have told the BBC.
The latest round-ups are the worst so far as women have not been spared, with many elderly mothers and fathers detained in a bid to force their children, who have gone into hiding, to surrender, they say.
They spoke on condition of anonymity as Eritrea is a highly restrictive state that controls almost all aspects of people's lives.
Eritrea has sent troops to help the Ethiopian government against forces from its northern Tigray region, which borders Eritrea.